Welcome to the 2012 Lite Scratch Tour Florida Season

Tour Championship Final Report

Challenge Cup day 1 results

Challenge Cup day 2 results

Florida wins 2012 Challenge Cup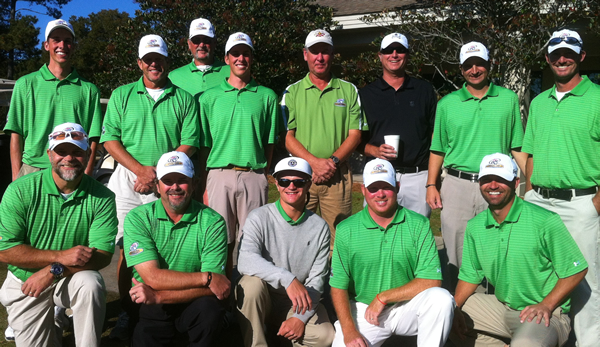 Florida survived a furious last day charge by Mobile to claim the 2012 Challenge Cup by a score of 14.5 to 13.5. Florida led 9.5 to 4.5 after the first day of the competition, but Mobile won 9 of the 14 singles matches to come within one point. Matt Johnson clinched the final and deciding point for Florida with a 1 up win over Matt Ritchie. Richie narrowly missed a downhill 10 foot birdie putt on the final hole that would have halved his match with Johnson and tied the Cup matches.


Maddox, Brown named players of the year
Rob Maddox held off Mike Riley at the Tour Championship and claimed his first scratch tour player of year title.

Mike Brown claimed the senior division player of the year title by 700 points over Bert Smith. It was Brown's second consecutive player of the year title.
Johnson, Brown prevail in Tour Championship
Matt Johnson chipped in for eagle on the 54th hole to win the open division Tour Championship over Jason Smith. Johnson and Smith were tied entering the third round. Smith held a narrow lead throughout most of the final round and held a one shot lead coming to the par five 18th hole. Johnson chipped in from just short of the green, and Smith missed the tying birdie putt, and also missed his par putt. Johnson shot a final round 72 to finish the 54 hole event at four under par. Smith shot 74 and finished second at two under. Rob Maddox finished third, three shots behind Johnson.

Mike Brown led wire to wire with 71-73-79 to win the senior division by 6 shots. Bert Smith finished second. Jay Manuel finshed third, 9 shots behind Brown.

Maddox, Riley named to Florida Cup Team
Sept 19 - The FSGA announced today that Rob Maddox and Mike Riley, currently number 1 and 2 on the Lite Scratch Tour Florida player of the year points list, were named to represent the north team in the 2013 Florida Cup. The bi-annual Ryder Cup style event between 16 man teams representing north and south Florida will be held October 18-19 at the Quail Valley Golf Club in Juno Beach.
Johnson, Brown win at Camp Creek
Open Division
Matt Johnson (73-74-147) overcame a 4 shot deficit with a final round 74 to win the Camp Creek event. Rob Maddox finished second at 150, but Maddox's second place finish was good enough to overtake Mike Riley in the tight player of the year points race.
Senior Division
BMike Brown shot 72-74 to win his fifth event of the season. Brown finished 8 shots clear of runner up Jim Pewitt.
Maddox, Smith win at Santa Rosa Beach
Open Division
Rob Maddox defeated Matt Johnson with a par on the third playoff hole to win his third event of the season. After Johnson (70-75) barely missed a clinching birdie put on the final hole of regulation, Maddox (71-75) sank his 8 foot birdie putt to force the playoff.
Brian Barth finished third, 2 shots out of the playoff.

Senior Division
Bert Smith (77-81) cruised to an 9 shot win over Bobby Dempsey (88-79). Larry Dempsey (91-77) finshed third.


Johnson, Lee win at Highland Oaks
Open Division
Matt Johnson birdied the first three holes of his second round and never looked back, cruising to a 66 and a 7 shot win over Mike Riley. Johnson (72-66-138) trailed Riley (70-75-145) by two shots entering the final round, but his blistering start in round 2 led him to his first win of the season. Mark Fisher (72-74-146) finished third.
Senior Division
Mike Lee (75-75-150) won in his scratch tour debut by 5 shots over Bert Smith (78-77-155). Lee led by 5 strokes with 9 holes to play, only to see Smith charge with three consecutive birdies to cut his lead to two strokes after 14 holes. But the steady Lee hung on for the win with pars on three of the final four holes.

Maddox, Brown win at Hombre.
Open Division
Rob Maddox defeated Tyler KausHagen on the first playoff hole to claim his second career title. Maddox(78-72-150) fired a second round 72 in blustery conditions to come from three shots behind first round leader Michael Riley. KausHagen (76-74-150) was seeking his first career win.
Senior Division
Mike Brown shot 73-76 to win by 12 shots over Gary Grant to capture his fourth win of the season.
Riley, Nobles dominate at St. James Bay
Open Division
Mike Riley shot a first round 67 to build a 6 shot over-night lead and cruised to the win. Riley (67-73-140) finished 10 shots clear of Rob Maddox (73-77-150) and Matt Johnson (75-75-150).

Senior Division
Tom Nobles won in his first scratch tour start. Nobles opened with 73 and lead by 9 after the first round. Nobles closed with 81 and finished 8 shots ahead of runner up Gary Grant (82-80-162).
Mathers, Grant win at Tiger Point
Open Division
2004 Player of the year Bob Mathers fired a first round 68 then held on for a 2 shot win over Mike Riley and Dave Torraca. Mathers finished 68-74-142 (2 under par). Riley and Torraca both shot 72-72-144. Rob Maddox finished fourth with 72-73-145.

Senior Division
Gary Grant defeated Bert Smith on the second playoff hole to claim the senior division title. Grant and Smith shot matching scores 71-76-147 in regualtion, then fittingly both scored 3 putt bogies on the first playoff hole. Grant won on the second playoff hole with a routine par.

Rob Maddox, Mike Brown tame Windswept
Open Division
Rob Maddox fired a pair of one under par 71s and claimed his first career scratch tour win at Windswept Dunes. Maddox held off a late challenge from 2011 player of the year Matt Johnson (75-70) and won by 3 shots. Craig Brown, Jon Henderson and Dan Grier tied for third at 150.
Senior Division
Mike Brown shot 72-73 and cruised to an 8 shot win in the Senior Division. Bert Smith and Jeff Cummings tied for second.

Riley, Brown, Lopez win at Rocky Bayou
Open Division
Mike Riley shot 71- 66 to win by 4 strokes over Jon Henderson. It was Riley's third straight win.
Senior Division
Mike Brown shot 69-74 to edge Tom Hayes. The win was Browns second win in as many starts in 2012.
Lite Division
Matt Lopez fired 75-80 to win the Lite division gross score by 2 over James Kauffman.
Riley, Hayes, Lopez win at Stonebrook
Open Division
Mike Riley outlasted Matt Johnson to claim the open division title at Stonebrook. Riley shot an even par 108 for 27 holes. Saturday's round was reduced to 9 holes due to inclement weather. Riley lead by one stoke coming to the 18th hole. Johnson's birdie putt nearly hit the hole but ran 5 feet past. Johnson missed the comebacker and Riley made a short birdie putt to seal the win.
Senior Division
Tom Hayes cruised to a 12 shot win in the senior division, shooting 3 over par 111. Player of the year points leader Kenny Barnes was among 4 players tied for second at 123.
Lite Division
Matt Lopez fired 120 (40-80) to win the Lite division by 7 shots over Janes Kauffman.


Riley, Brown victorious in season opener
Open Division
Mike Riley overtook Rob Maddox on the back nine Sunday February 18 to win the 2012 season opener at the Panama Country Club. Riley shot a three under par total of 141 to edge Maddox by two strokes. Riley, Maddox and Craig Brown were tied for the lead after the first round. Maddox took control early in the final round, hitting the first 12 greens in regulation and getting to two under par for the round. But Maddox double bogeyed the 15th hole and opened the door for Riley. who fired 34 on the inward nine to seal the narrow win. Ben Perdue finished in third place, five shots behind Riley at two over. Mark Fisher and Charlie Commander tied for fourth place, one shot behind Perdue.
Senior Division
Mike Brown birdied four of his last five holes to claim the season opener at the Panama Country Club. Brown shot 79 in round 1 and trailed Kenny Barnes by four shots, but Brown shot 32 on the back nine Sunday to close out a 69 and win by four shots. Barnes finished in second place with 75-77-152. Gary Grant finshed third at 157. Bert Smith finished fourth at 158.
Lite Division
Bobby Dempsey shot even par 144 net to win the Lite Division by two shots over Mickey Walters.
Tim Davis was the gross winner in the Lite Division at 164, one shot better than Larry Dempsey.
Tim Davis


Click here to view the 2012 tour schedule !

New divisions for 2012 ! Click here to download the 2012 player handbook.
Didn't play tour last year ? Or ever ? You can 'kick the tires' of the tour by playing one event as a non member. Email the mike@litescratchtourflorida.com for details.




The Tour History page has been updated with 20 years of events, scores, and stats. Click here to take a look.